I've always loved mint.  From Girl Scout Mint Thins to Fannie Mae Mint Meltaways to Junior Mints my mouth waters just thinking about any one of those delectable items. In my quest to modify my lifestyle (aka diet change) I discovered the most divine mint smoothie recipe and it's uber-healthy too!
I modified a recipe called Keto Mint Smoothie found on Elana's Pantry website.  Disclaimer: I'm neither keto nor vegan nor any named special diet.  I just look for recipes that sound yummy that fit my food choice criteria.  I saw 'mint' and knew I have to give it a try.
Here's what I put into my smoothie:
handful of kale
half can of coconut cream
1/2 teaspoon peppermint extract
2 tablespoons ground flax seeds
a banana
2-3 tablespoons of water
1 tablespoon of chocolate chips
Directions: blend everything except the chocolate chips.  when smooth, blend again with the chocolate chips
I'm in mint heaven.  I would have snapped a photo to show how yum it looked…but that was an afterthought and I had already drunk it.  Here's the image from the Elana's Pantry site to show you how divine it looks.  (Note: I didn't imbibe mine from a bell jar nor do I have chocolate chips scattered everywhere. If chocolate chips were everywhere that means a small personage was raiding the cabinet and didn't have the forethought to think their covert foraging would be discovered if they left a trail.)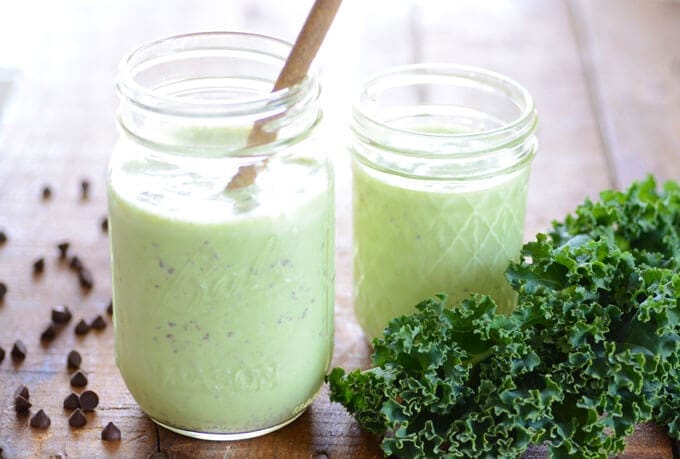 As I mentioned in my previous post one key to success in dietary changes in the home is to be prepared with recipes and have the ingredients on hand.  Secondly, keep nothing around that you don't want to be eating because cravings for 'no-nos' are strong and guilt for caving is worse.
So if you're a mint aficionado like me try out this recipe. If you also think it's divine, give a Like to this post.
Karen, The Klutter Koach
October 30, 2019